Brochure
Click on the images below to view the brochure or registration form. Right click on an image to save. Once saved you can view and print them from your computer.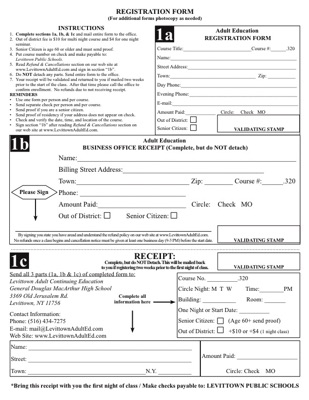 Registering for a Class
1. Students must be at least 18 years of age and their high school class graduated.
2. Check the Filled and Cancelled class list below.
3. Read the Refund, Cancellation, and Reduced Hour Policies and sign where indicated
on the registration form!
4. Complete all three parts of the registration form: 1a, 1b, and 1c
5. Mail form and check made out to Levittown Public Schools to address below.
Refunds, Cancellations and Reduced Hours
Please note the following:
*No refunds once a class has started
*There are no partial refunds
*No credit towards another class in the same or different session
*Non attendance, illness, or employment related problems will not be exemption to these policies
*Classes will generally not be cancelled for insufficient registration until the day prior to the start date
*Classes may be reduced in time without a reduction in fee. Our goal is to have classes run. We require a minimum number of students in the class to have it run in its entirety. If a class falls short of this number the class may be reduced in the total number of hours either by reducing the hours per night or the total number of weeks. Students will be informed of the reduction at the start of the first night of class. A student at that time may decide to request a refund (inform the teacher) and leave the class. The receipt should then be returned to the adult education office. A student that remains the entire first night of class will not be issued a refund.
* Requesting a refund prior to the start of the first class:
Cancellation notice or phone call must be received one business day (9:00-3:00 PM) before the advertised start date.
Please return your receipt to:
Levittown Adult Continuing Education
General Douglas MacArthur High School
3369 Old Jerusalem Road
Levittown, NY 11756
Other Policies
*Only a registered person may attend a class.
*Young children are not permitted in class.
*Monitoring a class prior to registering is not permitted
Upcoming Filled and Cancelled Classes
Filled Classes:
1156M: Spinning (Monday) - March 2nd
Cancelled Classes:
499: Introduction to Stage Acting - March 3rd
631: Easy Steps to Master Digital Photography & Improve Your Photos - March 3rd
707: College Scholarships and Grants - March 4th
1158: SHiNE Dance Fitness - March 4th
Postponed Classes & Inclement Weather
If a class is postponed the students will be notified in advance if possible. A postponed class will be rescheduled an additional week on the same night.
Classes will be postponed only if day school is closed due to inclement weather. Call the office at (516) 434-7275 to check class status.
Mail completed registration form with payment (check or money orders only – NO cash) to the
Levittown Adult Education Office:
Levittown Adult Continuing Education
General Douglas MacArthur High School
3369 Old Jerusalem Road
Levittown, NY 11756
Classes fill quickly – Do NOT wait to register!
Classes with low enrollment may be cancelled so register early!